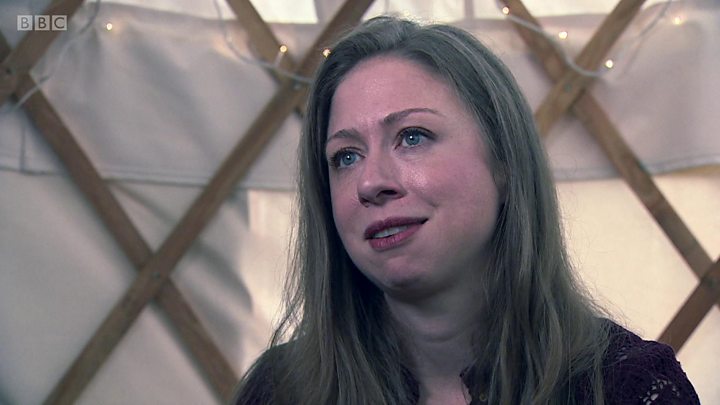 Chelsea Clinton has described Nicola Sturgeon as "incredibly courageous" for talking about the challenges of being a female leader.
The daughter of former US president Bill Clinton, and presidential candidate Hillary Clinton, was at the Edinburgh International Book Festival.
She spoke about women's rights as she launched her latest book for children.
She told the BBC that Scotland's first minister was among the many women she admires.
Ms Clinton has written two children's picture books, She Persisted and She Persisted Around the World.
'Shifts in norms'
Both books focus on women "who have used their voices and determination" to change and shape history.
She said equal rights for women remained a hugely important issue.
"We know that in no place are women fully equal – equally enfranchised, equally empowered, equally supported," Ms Clinton told BBC Scotland.
"How we change that requires a shift in norms and expectations and I think some of that starts with the stories we tell our children – not only our girls but also our boys."
Ms Clinton said she admired Ms Sturgeon for "talking about the challenges of being a woman leader".
"I think that's an incredibly courageous thing for her to do – to have that level of candour in public discourse," she said.
"I think we need more of that, and we should see that as a sign of strength and not remotely a sign of weakness."
When Nicola Sturgeon was elected as first minister in 2014, she said she hoped it would "help to open the gate to greater opportunity for all women".
She added: "I hope that it sends a strong, positive message to girls and young women, indeed to all women, across our land – there should be no limit to your ambition for what you can achieve."
She has since launched a competition to find a young women to mentor, and encouraged other women in leadership roles to do the same.
And she has also spoken out, along with other female politicians, about the online abuse women face.
Ms Clinton said: "I think that her candour will hopefully make it easier for more women to go into politics here in Scotland, and in other places where women are watching her example."
Among those who feature in Chelsea Clintons books are physicist Marie Curie and Harry Potter author JK Rowling.
She described Ms Rowling's story of being a young mother, writing her novels when she could in Edinburgh cafes and hotels, as "deeply inspiring".
"She encountered resistance but was unbowed. She persisted because she knew she had something unique and special and important to contribute to the world," she said.
Ms Clinton said she was inspired by both historical and fictional characters, but she added that the two women she had looked up to most in her life were her mother and her grandmother – "both of whom persisted over unimaginable odds and never gave up".
Hillary Clinton was First Lady of the US from 1993 to 2001, then a senator and secretary of state. She went on to be the Democratic Party's most recent presidential nominee, standing against Donald Trump in the 2016 election.
Her daughter said she had dedicated her latest book to her grandmother who had been abandoned by her "unwed teenage parents" at the age of eight and had had to look after her younger sister.
She added: "Even though she didn't have a model of women in her family going to college, she supported her daughter going to college and then she herself went to college in her 60s.
"I wish that my grandmother were here today and I could share my books with her.
"I wish she could see all that her daughter and granddaughter continue to do."