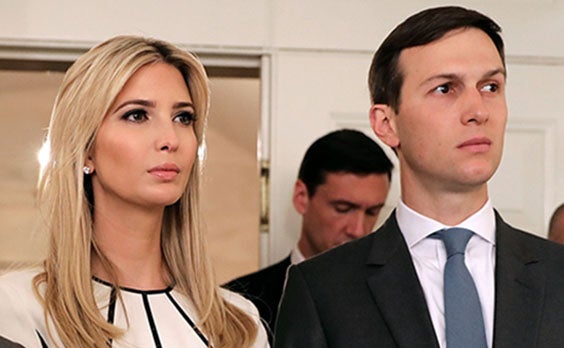 Jared Kushner and his wife Ivanka Trump are ready to reassert their public profile, White House insiders have predicted.
As scrutiny of the couple often referred to as "Javanka" became increasingly intense during the president's first year, Mr Kushner and Ms Trump seemed to retreat from public view. 
After several of their allies in the White House departed, there was a near-constant stream of questions about whether they would follow.
Amid a whirlwind of fallouts and firings, Mr Trump has retreated into the familiarity of his family – his daughter, above all, and eventually, her husband. In May, Mr Kushner had his security clearance restored.
It points to a conscious effort on the part of Mr Kushner and Ms Trump to ramp up their profiles, ready again for a more public stage to pursue their projects.
"I think they felt in some ways when things escalated that they thought it was best to keep a lower profile and hone in on their specific policy areas," said Sarah Huckabee Sanders, the White House press secretary.
Ms Trump has announced she would shut down her New York-based fashion brand – a move seen as a symbolic recommitment to her life and her husband's in Washington. 
"Any suggestion that they were going to leave the White House was just ridiculous," said Steven Mnuchin, the Treasury secretary, who was one of several allies the couple asked to speak on their behalf for this article. 
"They both have been dependable, valuable and effective partners for me and other members of the president's cabinet," added secretary Mnuchin.
However, both Mr Kushner and Ms Trump have been criticised for their quiescence in some of the president's more controversial policies.
"I never counted on it, but they themselves promoted the idea that they would save us," said Hilary Rosen, a Democratic strategist who has been a vocal critic of the administration.
As for separating immigrant families, she added, "How do they sleep at night?"
In response to critics like Ms Rosen, the couple have argued that they can temper Mr Trump only if he is willing to listen. Sometimes he has been. Ms Trump pushed for the expanded child tax credit in the tax cut bill that passed in 2017, and Mr Kushner has convinced the president that criminal justice reform is worthwhile, even as his attorney general remains a vocal opponent.
Mr Kushner has shown an adeptness at using the president's impulses to steer him towards his own priorities. 
When Mr Kushner ushered Kim Kardashian West into the Oval Office to speak about commuting the life sentence of an African-American woman named Alice Marie Johnson, Mr Trump ignored the concerns of his advisers and freed Ms Johnson, dazzled by his power to grant clemency and Ms Kardashian's celebrity.
Mr Kushner appears to see himself as the custodian of Mr Trump's political brand, offering his father-in-law "options", and has spoken about clearing out the Republican Party of lingering resistance. 
He has privately said that he has been taking action against "incompetence" and that any tensions are a result of fighting for his father-in-law's best interests.
"I have greatly enjoyed working collaboratively with so many extraordinarily devoted and competent people," Mr Kushner said through a spokesman a few hours before this article was published, "but those who have tried to undermine the president have found me to be an obstacle."
The couple's allies insist that the expectations of their friends were way too high from the beginning, and that the admonitions to publicly denounce Mr Trump were never realistic or fair. 
Although they rarely talk on the record to reporters, Ms Trump and Mr Kushner's focus on media coverage is suggestive of their desire to take centre-stage in the president's court once more. 
The New York Times