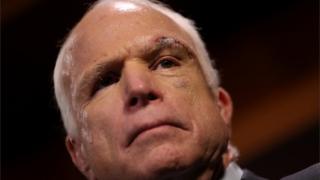 US Republican Senator John McCain will no longer be continuing treatment for his brain cancer, his family has announced.
Mr McCain, 81, was diagnosed with an aggressive form of brain tumour last summer and had been undergoing treatment since July 2017.
He left Washington to be with his family in Arizona, though he has still been a vocal political figure.
He has, at times, been a fierce critic of President Donald Trump.
His family said in a statement shared with US media: "Last year, Senator John McCain shared with Americans the news our family already knew: he had been diagnosed with an aggressive glioblastoma, and the prognosis was serious."
"In the year since, John has surpassed expectations for his survival. But the progress of disease and the inexorable advance of age render their verdict.
"With his usual strength of will, he has chosen to discontinue medical treatment."
In a tweet, Meghan McCain, Mr McCain's daughter, said that her family "is deeply appreciative of all the love and generosity" they have received over the past year.
His wife, Cindy McCain, also shared the family's statement on Twitter, saying: "I love my husband with all of my heart. God bless everyone who has cared for my husband along the journey."
Republican Senate leader Mitch McConnell said he was "very sad" to hear the news.
Former Secretary of State John Kerry called his fellow Vietnam veteran "a brave man".
Mr McCain spent more than five years as a prisoner of war.
The six-term senator and 2008 Republican presidential nominee was diagnosed after doctors discovered his tumour during surgery to remove a blood clot from above his left eye last July.
Glioblastoma is a particularly aggressive brain cancer, and increases in frequency with age, affecting more men than women.
At the time, his daughter said that the family reacted with "shock" to the diagnosis.
"It won't surprise you to learn that in all of this, the one of us who is most confident and calm is my father," she said on Twitter.
"So he is meeting this challenge as he has every other. Cancer may afflict him in many ways: but it will not make him surrender. Nothing ever has."