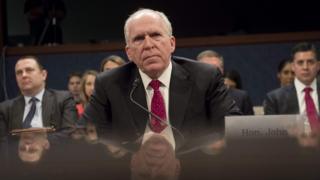 A dozen former US intelligence leaders have backed ex-CIA chief John Brennan after his security clearance was revoked by President Donald Trump.
The former CIA and national intelligence bosses called Mr Trump's move "an attempt to stifle free speech" in a joint statement on Thursday.
Mr Trump is keen to strip other high-ranking officials of access to classified information, US media say.
The nine people currently on a review list have all criticised the president.
Many have also been involved in the investigation into Mr Trump's 2016 election campaign's alleged collusion with Russia.
Mr Trump has described the ongoing US Department of Justice inquiry as a "sham", repeatedly denying any collusion with Moscow.
He told the Wall Street Journal it was a "rigged witch hunt", led by "these people" from the US intelligence community.
Mr Brennan, an outspoken critic of Mr Trump, has been locked in a war of words with the president this week after supporting the "well-founded" investigation into his campaign's alleged collusion with Moscow.
The White House said removing his access to sensitive government information on Wednesday was due to Mr Brennan's "erratic conduct" and "outrageous allegations".
Mr Brennan then hit back saying Mr Trump's claims of no collusion were "hogwash".
"Mr Trump clearly has become more desperate to protect himself and those close to him, which is why he made the politically motivated decision to revoke my security clearance in an attempt to scare into silence others who might dare to challenge him," Mr Brennan wrote in a New York Times op-ed.
Former top intelligence officials typically retain their clearances for a time, often advising successors.
William McRaven, a retired Navy admiral who oversaw the raid that resulted in the death of Osama bin Laden, also wrote an open letter to Mr Trump on Thursday, saying he would consider it "an honour" if his own clearance were removed.
"Through your actions, you have embarrassed us in the eyes of our children, humiliated us on the world's stage and, worst of all, divided us as a nation," Mr McRaven wrote in the Washington Post.
The 12 signatories of the joint statement – who include former CIA directors David Petraeus, Leon Panetta and Porter Goss – noted that while they may not all agree with Mr Brennan's comments, they supported his right to voice an opinion.
The ex-officials called Mr Trump's move against Mr Brennan "ill-considered and unprecedented".
Two of them – ex-director of National Intelligence James Clapper and former CIA director Michael Hayden – are also on the White House list of those whose security clearances have been publicly threatened.
Mr Clapper and Mr Brennan were among the Obama administration officials who briefed Mr Trump before his inauguration on evidence of Russian meddling in the 2016 election.
Mr Trump has repeatedly urged Attorney General Jeff Sessions and other officials to end the Russia investigation led by Special Counsel Robert Mueller.